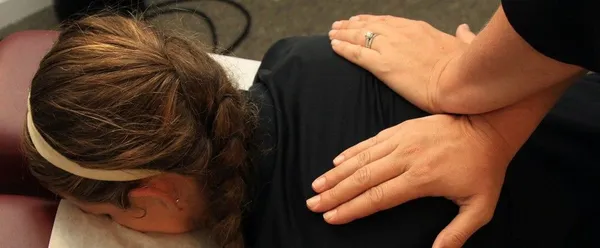 At Chiropractic Care Center, we take great pride in providing the finest chiropractic care to each and every patient. We have included information below about the different chiropractic services offered in our Bloomsburg chiropractic office, but please call us at 570-389-1901 if you have any questions!
---
Manual Adjusting
Spinal manipulation or "adjustment" of the vertebra is the primary treatment used by chiropractors. It is accomplished by the Chiropractor applying a high velocity, low amplitude forces with his / her hands to the spine to restore normal motion and correct the misaligned vertebra. We also term this a "manual adjustment or treatment." Chiropractic adjustments can also be made by using a hand-held instrument.
---
Instrument Adjusting
Instrument adjustment in progressSmall child happily being adjustedIn recent years, Chiropractors are using hand-held instruments to correct spinal subluxations. At the Chiropractic Care Center we use two types of instrument adjusting. A manually operated instrument called an "Activator" and an electrically operated instrument called an "Impulse." These instruments are used either alone or in combination with manual adjusting to provide the best results for our patients. We treat patients of all ages including infants, kids, and pregnant women.
---
Commercial Driver's License Exams
Dr.'s Dale and Kylie are on the National Registry of Certified Medical Examiners for DOT/CDL physicals. Medical examiners (MEs) have been trained, tested and certified to perform medical examinations for commercial motor vehicle (CMV) drivers in interstate commerce. We fully understand the medical standards in the Federal Motor Carrier Safety Administration (FMCSA) Regulations, related guidance and how they relate to the medical demands of operating a commercial motor vehicle. Our goal is to promote and preserve the highest level of professional standards and care among medical examiners.
---

Cold Laser
Cold LaserCold laser therapy delivers specific light energy in the form of photons, to damaged cells in order to increase blood flow. Laser therapy promotes the the body's own natural healing processes by accelerating the healing of damaged tissues, aides in the the reduction of pain and decreasing inflammation. Cold laser therapy is an extremely safe, non-invasive therapy that promotes healthy cell metabolism.
---

Decompression Traction
Decompression TherapyAlthough traction therapy has been around for thousands of years, Decompression Therapy is relatively new. Advances in equipment and procedures have dramatically improved the effectiveness. Decompression therapy gently stretches the spine, relieving pressure from the discs, joints and muscular tissues, while enhancing the body's natural healing process. Traction creates a controlled unloading of the vertebra to decrease disc pressure thus increasing blood and nutrient exchange. This exchange of fluids is something the damaged disc desperately needs to help it heal from the inside out. Decompression therapy has shown a very high rate of success at reducing or even eliminating pain related to sciatica, pinched nerves, and bulging or degenerative disc diseases.
---

Electric Muscle Stimulation
Electric Muscle StimulationThis type of therapy is applied through the skin into the soft tissue (muscles) or to the peripheral nerves to control pain, assist in muscle coordination, reduce muscle spasms, reorganize newly formed collagen tissue, reduce inflammation and enhance soft tissue healing.
---
Moist Heat Therapy
Moist heat packs are used on patients to reduce muscle spasms, promote joint flexibility, increase lymphatic and blood circulation, as well as sedating damaged nerves.
Cold Therapy
This therapy is used for acute trauma or severe muscle spasms. Cold therapy reduces pain and inflammation.
---
Rehab Exercises
To better benefit your chiropractic treatments we like to incorporate exercises, stretches and activity avoidance, modification, or recommendation. Poor movement patterns are a result of poor posture, improper lifting mechanics, muscle imbalance or injury. These improper patterns overload and stress muscles, ligaments and joints, producing your pain.
You will get the most benefit from your chiropractic treatment when you combine it with exercise, regardless of your injury, age and ability. Therefore we feel core stability exercise is the most important thing to concentrate on. It can improve all joint, muscle, neck and back problems and are essential in the recovery from injuries.
Rehab exercises can help with pain relief, muscle strengthening, increased range of motion, optimized functionality and much more.
---
Ultrasound
Ultrasound on woman's neckMuch of the value of ultrasound is providing pain relief due to its superior depth of penetration. The action of the sound waves creates cellular friction, which produces heat, increasing local blood flow to enhance healing. It is used in the treatment of arthritis, muscle, tendon and ligament inflammation where increasing the tissue temperature is a desired effect.
---

Chiropractic Care
We provide advanced spinal correction and chiropractic adjustments utilizing "state of the art" chiropractic techniques. Never in the history of chiropractic care have chiropractors been able to provide the level of help and expertise that is available today. Many of the newest chiropractic techniques are actually safer, more comfortable and more effective than ever before. As a chiropractor who cares about utilizing the most advanced chiropractic techniques, Dr. Kylie Jeffrey has years of training, expertise and experience in helping patients get pain relief for back pain, neck pain, headaches, and other related conditions originating from the spine. Chiropractic care under a trained professional can even be used to prevent injuries and help you achieve total health or wellness.
---

Corrective Exercises
At Chiropractic Care Center, we teach our patients how to perform special "blueprint" exercises which can help strengthen and correct the irregularities in their body which may be causing pain. Many of these corrective exercises can actually be performed in the comfort of your own home to help improve the effectiveness of your chiropractic care and spinal correction plan. In addition to skeletal misalignment, you may be experiencing pain that is caused by muscles and connective tissues which are out of their proper place. Other types of pain such as back pain, neck pain, and headaches are caused by muscles and tissues that are being used improperly, causing injuries over time. In each case, targeted corrective exercises and stretches from our experienced chiropractor will help you feel good while also helping your body achieve balance and health.
---

Lifestyle Advice
Many of our patients come to see our chiropractor to address a specific pain symptom such as back pain, neck pain or headaches. While our chiropractor will address each patient's specific condition with chiropractic care, we often find it helpful to "coach" our patients towards achieving a healthier lifestyle. For example, there may be certain activities that you should avoid or do differently to prevent yourself from unintentionally aggravating your particular health challenges. The goal of including lifestyle advice with a chiropractic care plan is to help each and every patient achieve the fulfilling and happy lifestyle they deserve, one that is full of the activities that are enjoyed most. We recognize that every single one of our patients is a whole person, and we use our expertise to help them reach total health and wellness.
---

Nutritional Counseling
What does nutrition have to do with chiropractic care? The goal of chiropractic care is to help patients achieve total health and balance with their body, and as part of that goal we provide specific recommendations on nutritional supplements and healthy food choices. Nutritional counseling by our experienced chiropractic health professionals can assist a patient on their return to optimal health. Do you know which supplements and vitamins are good for you? Do you know how these supplements and vitamins interact with one another? At our Bloomsburg chiropractic clinic, we can provide each patient with a structured nutritional program that is based on their individual needs.
---

Massage Therapy
Massage therapy does more than make you feel good, it can actually help your body achieve balance and health. Massage therapy offers a natural treatment approach which actually relieves musculoskeletal pain for many patients. Our chiropractic office provides specific massage and muscular therapy that is complimentary to their chiropractic care. Each massage therapy plan is tailored to meet the patient's unique pain condition or injury. The benefits of massage therapy may include the increase of blood circulation, a localized reduction in swelling and the relaxation of muscles. Massage has been known to relieve muscle pain and spasms, increase a patient's range of motion, while also aiding in a patient's recovery. Some investigative studies have even indicated that a single session of massage may help boost your immune system!
---

Spinal & Postural Screenings
There is a saying that an ounce of prevention is worth a pound of cure. Your spinal health is no exception. Posture and spinal screenings by a trained and experienced chiropractor such as Dr. Kylie Jeffrey can help reveal important health information, unlocking the door to improved health and well-being. In order to help the Bloomsburg community, we provide screenings at area malls, community events, health fairs and places of employment. Contact us today at 570-389-1901 to arrange a screening at your event or workplace.